Recognising a desire for theming in playground equipment that would reflect the Maori heritage of many of New Zealand's parks and reserves we have carefully designed our Ngā Papa Tākaro Māori range using classic iconography that any Kiwi will instantly recognise.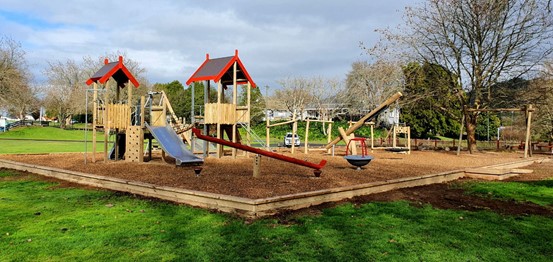 This stylised wharenui roof shape is familiar to all, but we have deliberately designed the timber whare façade so that local carvers can add their own authentic paneling to give the play structures further local meaning should the opportunity be presented.
The whare roofs and distinct timber paneling can easily be adapted to many of our popular playground designs to give your playground a real Kiwi flavour.  We have also designed the Waka Seesaw - based on our traditional Forest Seesaw – Kiwi kids will know the Waka shape and we have created this seesaw with flat top to allow for an added balance challenge for more adventurous kids to enhance the imaginative play aspect of this seesaw.

This range beautifully compliments any play space where a more natural look is sought.  Paired with our Forest Swings and Kompan Robinia products, this equipment presents an attractive aesthetic that will stand the test of time and keep kids coming back again and again.