At Playground People we are proud of our reputation as leading suppliers of inclusive play equipment for accessible playgrounds – we follow the UN's guidelines for Universal Design.
"Universal design" means the design of products, environments, programmes and services to be usable by all people, to the greatest extent possible, without the need for adaptation or specialised design. "Universal design" shall not exclude assistive devices for particular groups of persons with disabilities where this is needed."
- From the United Nations' Convention on the Rights of Persons with Disabilities
Beginning with the opening of Auckland's Rocket Park in 2001, we helped change perception of what an accessible playground should look like by applying the Universal Design principles of our international partner Kompan to our playground designs. By utilising this approach, we can ensure that any playground can be accessible for all children of any ability level rather than creating separate 'special' playgrounds that do not promote inclusivity.
Our 6 Principles for Universal and Inclusive Design Products are:
  • Accessible
  • Multifunctional (when possible)
  • 360º design: Play from all sides
  • Equipped with diverse play opportunities
  • Clear in colour and design signals
  • Provided with special solutions for special needs when relevant
If you are interested in further reading, we recommend that you download a copy of Kompan's Play for All paper on universal design.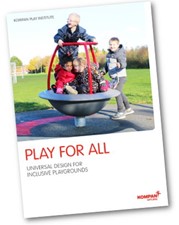 If you are looking for assistance with creating a more universally inclusive playspace for your school, facility or community – please contact us today 
Most of the equipment we offer is designed with Universal Play in mind – this is marked by the accessibility logo on their individual pages. However, our experience in this field has allowed us to select a number of products that have proven to be successful in playspaces where accessibility is a key focus and that we know will work for you in providing an array of physical, sensory and social play experiences for all children.